At The Ceramic Bride, we specialize in creating custom handmade ceramic dresses of brides' gowns. We understand that every bride is unique and wants to showcase her personality on her special day. We create bespoke ceramic figurines of wedding dresses that capture the essence of each bride.
Choosing the right wedding dress style can be overwhelming, but we believe that certain styles look absolutely beautiful as ceramic figurines. Here are our top 5 wedding dress styles that we think translate beautifully into our ceramic creations:
1. Ballgown
A classic and timeless choice, the ballgown style is perfect for brides who want to feel like a princess on their wedding day. The full skirt and fitted bodice create a beautiful silhouette that translates well into a ceramic figurine.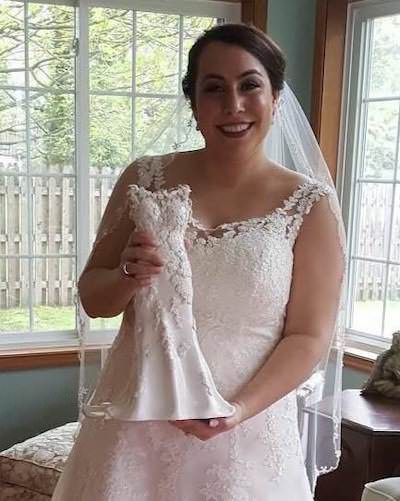 2. A-line:
A versatile style that flatters many body types, the A-line dress features a fitted bodice and a skirt that flares out gradually. This style works well for brides who want a simple yet elegant look that can be customized with unique details.
3. Mermaid:
For brides who want to make a statement, the mermaid dress is a perfect choice. This style hugs the body and flares out at the bottom, creating a dramatic and beautiful silhouette that looks stunning in ceramic.
4. Sheath:
The sheath dress is a sleek and modern option that is perfect for minimalist brides who want a clean and simple look. The straight, fitted cut of the dress lends itself well to the clean lines and elegant simplicity of a ceramic figurine.
5. Cultural:
A cultural wedding dress is a meaningful choice that can honor tradition and celebrate heritage. Whether it's a traditional Chinese qipao, a colorful Indian sari, or a vibrant African dashiki, we love working with brides to create bespoke ceramic figurines of their cultural wedding dresses.
We love working with brides to create unique and beautiful ceramic figurines for their wedding dresses. Whether you choose one of these styles or something entirely different, we'll work with you to create a one-of-a-kind piece that captures the essence of your special day.
Contact us today to learn more about our process and to get started on your own custom ceramic figurine.