Always Remember
What

Is

Beautiful

About

Life
A wedding dress is one of those things.
"It's not just another dress. It's the dress you'll remember FOREVER." - Vera Wang
About The Ceramic Bride Bridal Dress Replicas
Each sculpture is hand-made of low fire clay and fired in an electric kiln. Every detail of the dress is captured in the 17-inch tall figure.
The sculpture is a gift to someone and their spouse or a gift to a daughter, friend, or family member.
Its value is heartfelt and highly emotional. The artwork becomes a precious memento – and often, a family heirloom.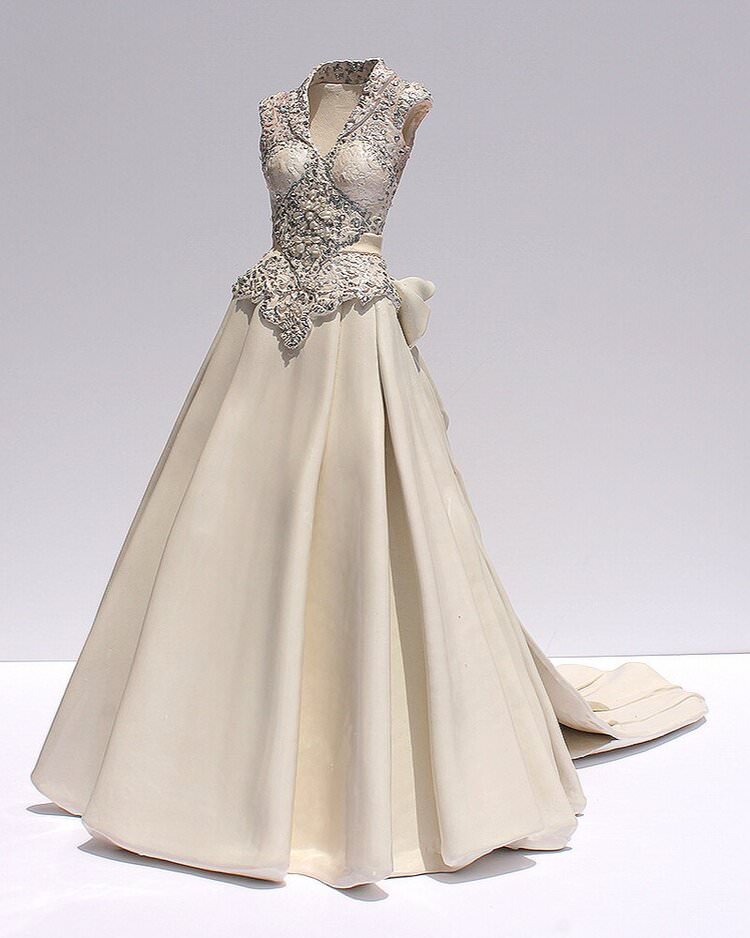 How it Works
Keep the memories alive with a custom ceramic sculpture of the bridal gown.
Working from the photographs, the artists capture every detail of the dress — whether it's a smooth silk satin, a delicate Alencon lace or an encrusted beaded dress with Swarovsky crystals.
NICOLETTE
Hand cut appliqué of Alencon lace over full skirted hand built sculpture. 17 inches tall
LEILA
Illusion gown with full skirt and metallic embroidery and beading. 17 inches tall.
JOY
Strapless textured ball gown with hand cut and appliqued flowers.
REGENCY
Regency Silk satin ornate wedding gown with pleated skirt, draped bustle and metallic embroidery and beading.
MY HEART
My Heart Strapless embroidered gown with scalloped hemline.
NANCY
Hand built guided bridal gown with textured bodice and sculpture skirt. Replicated vintage Alencon trim. 17 inches tall.
Have

a

piece

of

art

created

to

honor

your

wedding

day

and

all

that

it

means

to

you

and

your

loved

ones.

Get

Yours

For

Only

$995
"My wife was ecstatic! I found this service at a wedding show that I was at and ordered it for my wife who is impossible to shop for because she has everything. This was so special and such a heart warming gift that my wife is still talking about it."

Jim B.
"Renée, my dad gifted my mom your beautiful sculpture for their anniversary, and my mom was completely blown away. These are the words my mom wished to share with you: "Thank you for making such a wonderful gift that is a constant reminder of my strong and loving marriage. Your sculpture replaced a beautiful dress that was seemingly irreplaceable. I will cherish this piece forever and the happy memories it brings. Thank you so much!"…"

Olivia Z.
"I have to tell you that I have my beautiful 'mother of the bride dress' prominent on my dresser and I appreciate it every day. What a wonderful remembrance of momentous occasions for your clients. Please keep me posted on any new works and designs."

Barbara P.
I can feel the flowing beauty of this gorgeous golden fabric like only you can make happen, magical!

Jacqueline B.
"The sculpture is magnificent! You capture every brides hopes and dreams of a "forever gift"

Gail B.
We are just thrilled with our new sculpture. It looks perfect and is a wonderful addition to my collection. It's especially a treat to have something new and fantastic at this point in time. So thank you! We were especially impressed with the packing...what a job. Thanks again

Gail K.
2D to 3D - Inspired Making! Like seeing all the details and shaping. The concept of steading oneself, as a trasference of energy. I like the concept of singing or saying poetry, as one weaves or creates, so as to weave in the soul and intention. The maker and the giftee are then connected. Just beautiful and await more creations!

Chanda B.
The Moment It Arrives
Cherish forever the memories attached to giving and receiving a Ceramic Bride sculpture. Capture the moment and order a custom, hand-crafted Ceramic Bride dress today.